Services and Rates: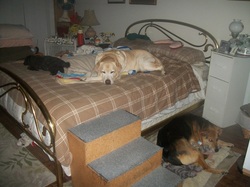 Boarding is $50 for one dog and $40 each for 2 or more dogs in a household.

Daycare is $30 for one dog and $25 each for 2 or more dogs in a household

All dogs are required to come in with their owners for a complimentary "meet and greet".
It is for the safety of all the dogs to make sure that they are compatible.

---
Meet and Greet: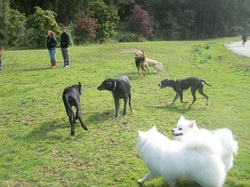 The Meet and Greet process is to make sure your dog's behavior will be compatible to the other dogs and when they board it lets your dog experience the new surroundings and get the feel for the new home before they spend a few days or weeks here.

I ask that you bring your dog's own food while he stays with me. It is much easier on their stomachs and it's one more reminder of home.

My boarding dogs go on walks to Fort Funston or Stern Grove. I have a fenced in backyard and also a fenced side and front yard.

I have steps to my bed if they like sleeping with me and they are allowed on the furniture except the dining room chairs of course.

I send you a daily report booklet with pictures of your dog's stay with me a few weeks after their visit.


My boarding and daycare dogs are delivered by their parents/guardians.

---