All About Betty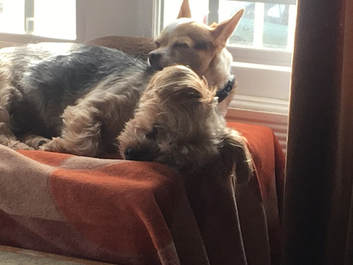 I am the owner/sole operator of B-B's Dog Boarding Service. I had 4 dogs of my own and walked some of the neighbors dogs too. I had been a hairdresser for a while and was looking for a change. One of the neighbors encouraged me to switch to dog walking. He said that I loved dogs so much I should just make the jump and do it. So in 1999 I went full time walking dogs. My regular clients asked me to board their dogs so I also started doing that. I have never regretted the switch in careers. I do love the dogs and enjoy them every day. I am fazing out picking up dogs during the week to walk and concentrating on the boarders more. I still pick up a few dogs but am not taking any new walking dogs. When I board the dogs I do tend to spoil them. They get baked chicken on their dinners and special treats on the walks and lots of love. Some of my "babies" are getting older and I don't mind the extra care that they need now. I have 2 dogs of my own now, Gigi a 7yr old Yorkie/Shih Zhu mix and Toby a 4 yr old Chihuahua.



I am licensed, bonded and insured and am a member of Prodog, SF Dog, Petsitters LLC and Petsitters International.

I walk the dogs at Fort Funston and Stern Grove.
---